UTair

About company
UTair Aviation is one of the leading companies in Russia. It provides not only passenger transportation on domestic and international airlines, but also transportation of oversized cargo by helicopter. Each UTair air transport fully meets international aviation requirements, as they are equipped with TCAS systems that prevent dangerous rendezvous, as well as satellite navigation, noise-absorbing technologies, special oxygen equipment, etc.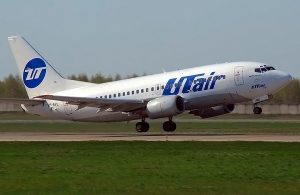 The Tu-154 airplanes of the company have a three-class layout, and the Tu-134 — a two-year one. There are also services that belong to the business class, comfort and economy class. In addition, in the near future it is planned to introduce a fourth class of service called Economy Plus.
You will be able to fully experience the fullness of quality service, as the company owns its own in-flight catering department. Each passenger offers a variety of hot dishes, soft drinks. In each of the airports with which UTair cooperates, uniform service standards are introduced for all.
As a priority area of ??activity, making flights according to UTair flight schedules, the company has chosen for itself a qualitative improvement in the service for passengers before, during and after the flight. Every year more than 2.5 million people choose UTair due to the high level of flight safety, flight regularity, as well as a fairly convenient route network and flexible tariff system.
Flight directions
Basically, the company is based at airports such as Vnukovo (Moscow), Surgut, as well as Tyumen. In addition, you can fly directly from Domodedovo Airport to Lenkoran, Surgut and Ufa, or use charter flights.
Together with UTair, each person can visit Baku, Bishkek, Donetsk, Dushanbe, Bratislava, Brno, Vilnius, Hanover, Palanga, Tallinn. The company also provides airport services, providing repair and maintenance of air transport. Basically, the company's aircraft fleet consists of Antonov An-2 / An-3, Antonov An-24, Tupolev Tu-134, Tupolev Tu-154, Yakovlev Yak-40, ATR 42, ATR 72, Boeing 737-500.
Additional Information
Following the results of summer 2011, UTair Aviation was recognized as the most accurate and punctual company that is served by Domodedovo Airport. The rate of flight regularity is 72.8 percent. And the main merit of the services and divisions of the airline. Every day, every flight performed by UTair is submitted to strict control and management of the daily plan, which is developed by the Mission Control Center.
The company actively promotes growth in the number of its customers by offering them a variety of cooperation programs. UTair for regular customers offers promotions and special offers at all their points of sale.
Contacts
Address: 628012, Khanty-Mansiysk Autonomous Okrug, Khanty-Mansiysk, Airport
Telephone: 8 800 100 08 08
Fax: +7 3462 280 116
E-mail: status@utair.ru
Website: www.utair.ru