Victory

About company
Russian aviation company budget type «Victory» is a subsidiary of «Aeroflot». All 100% of the shares belong to the main company. The Victory has been based at Vnukovo Airport since September 2014. The company was established to replace the Dobrolet airline previously operating here. It ceased to function due to the sanctions adopted by the EU.
Airline history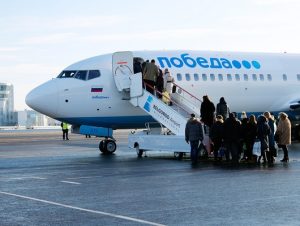 The aviation company was formed quite recently in July 2014. The former name of Dobrolet Airlines, which was a subsidiary of Aeroflot. The company's base was located at the Sheremetyevo air terminal. Only here in 2014, EU sanctions were imposed. All this happened because the company operated flights to Simferopol. Because of the sanctions, the company ceased to operate. Dobrolet was considered a low-cost airline, and after it was closed, Aeroflot thought no longer to engage in the development of "budget transportation". However, in October 2014, it was decided to open a new aviation company, Pobeda, which would replace its predecessor. Aviation company from the end of autumn 2014 began to carry out flights. The first flight was carried out from Moscow to Volgograd.
Routes
Currently, the company «Victory» continues to operate stably and develop. It increases the number of flights. In 2015, the aviation company began to conduct flights to 16 cities of the Russian Federation. Among these cities are Arkhangelsk, Vladikavkaz, Yekaterinburg, Perm, Surgut, Ufa and others. The company is not going to stop there. In 2015, they want to conduct flights to 34 destinations. The flight to Simferopol was never resumed, and in the near future it will not be carried out either.
Airline codes
IATA code: DP
ICAO code: PBD
Aircraft fleet
The Victory airline fleet is considered the youngest among other companies of the Russian Federation. They operate only the most modern and young aircraft. Victory works directly with manufacturers, so one of its new aircraft is the Boeing 737-800 NG. The company is trying to buy new aircraft, as they are more functional and economical to operate. Boeing 737-800 NG the most popular aircraft around the world. They are used even by the largest aviation companies in the world. In 2015, the airline plans to expand the fleet of aircraft and purchase 13 Boeing-type liners.
Contacts
Address: 141411, Moscow, International Sh, House 31, Building 1.
Phone: 8 (809) 505-47-77; +7 (499) 215-23-00.
Website: http://www.pobeda.aero/ru/