Flinders Chase National Park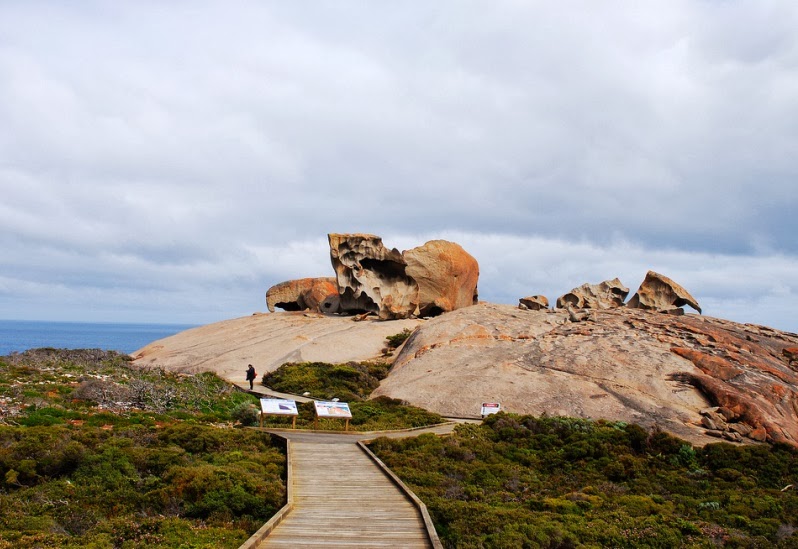 There are a lot of places in Australia that you definitely need to see, but the Flinders Chace National Park is considered to be the most amazing attraction of the green continent.
This park is located on the island of Kangaroo, at a distance of about two hundred kilometers from the city of Adelaide, which is the capital of South Australia. The territory of the Flinders Chase is famous for a huge number of relict plants and endangered species of animals that are no longer found anywhere on the planet. But most of all this national park is popular for its unique geological rock formations.
These huge rocks of bizarre shape, which nature created by the effects of wind, sea and rain, became the most favorite places for photos and video of tourists and recognizable sights of Kangaroo Island and Australia.
These anomalous formations have their names — Admiral's Arch and Wonderful Rocks. Wonderful rocks are a complex of giant granite boulders, with fancy laces of erosion, as if created by human hands. If it were not known that these are natural formations, then it would be quite possible to believe that these are exhibits of an exhibition of abstract sculpture. All these boulders — giants are located on a huge pedestal of lava. Against the background of freakish bends of stones, and sometimes inside their tourists, they take pictures of themselves, getting unique compositions.
The Admiral Arch is a second geological formation, has the shape of an arch. Tourists come here to see the ocean tide; an observation platform has been set up for this purpose. From this site you can watch an unforgettable sight — games of fur seals that are frolicking in the water merrily. It is recommended to climb the platform during sunset, the stone arch against the setting sun inspires the most experienced travelers.
Flinders Chase National Park was founded in 1919 and since then, the park has been actively involved in the rescue and breeding of endangered species of animals. From the very first day from the mainland to the island of Kangaroo brought animals that were on the verge of extinction. Here lizards and echidnas, who almost ceased to exist, found their home. The koalas population in the national park is increasing every year. But this animal was considered almost extinct and there are very few places on the planet where koalas breed.
Visiting Flinders Chase, you can see many kinds of animals and plants that people have only recently seen in pictures.
If you decide to go to the park on your own, you can get there from the city of Penneshou, as it is the closest from Flinders Chase. For an organized tour it's enough to contact any travel agency.