Horizontal Waterfalls in Australia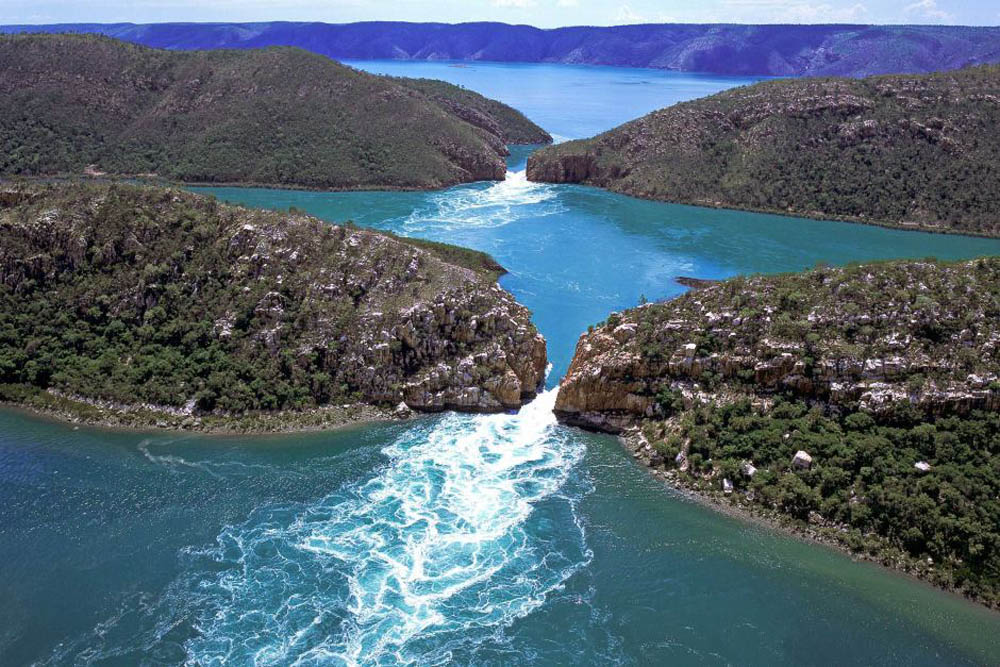 On the northwest coast of Australia is an amazing place — horizontal waterfalls. In the view of most, a waterfall is sheer falling water streams. Australia offers tourists unusual waterfalls. Their height is only 5 meters, but they are able to surpass the highest competitors with beauty. At the site of their formation, natural channels connect the freshwater Poulton Creek with the salty Talbot, winding between mountain ranges. Under the action of the tide, a calm surface turns into noisy streams. Salt water rushes into a fresh lake, creating a beautiful sight. Flows always move in different ways. The tide causes waves, forming whirlpools and driving water in different directions. With low tide movement begins in the opposite direction. The natural cycle controls the channels, forming an unusual sight every 6 hours.
Tips
During the calm period, the water is unusually calm. You can ride a boat, swim in the cleanest water. To explore the local beauty organized regular trips on boats. The best time to visit is May-October. You can see the mysterious beauty of the waterfalls from a height. Wishing to offer a tour on a seaplane.
How to get there
There are horizontal waterfalls in Talbot Bay. Cruise programs start from the nearest city of Derby in northwest Australia. Nearby are several tourist centers.