Rock uluru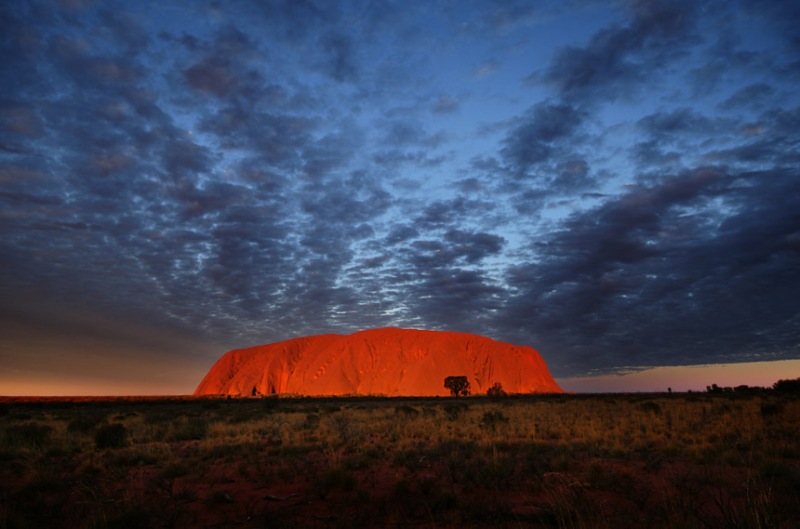 In the heart of Australia is located one of the most visited attractions in the world — the Uluru rock. There is no such monolith on the planet. On closer examination, on deep and smooth at first glance slopes one can see deep grooves. These traces were left by a sharp change in the temperatures of the hot day and the night cold of the desert. Erosion is completed by annual hurricanes with heavy rains. In exactly the same way, abrupt changes in temperature have also formed caves at the foot of the rock. On their walls are preserved drawings of primitive artists.
Australian natives natural wonder serves as a place of worship. The rock changes color several times a day. It depends on the position of the sun. Red, pink, golden and lilac shades replace each other until the darkness of the night hides the mountain. Attracted by the mysterious monolith, tourists not only admire the play of color, but also climb up. They are not afraid of either the heat or the tedious and difficult climb for two hours. The rock is located on the territory of Uluru biosphere reserve. The height of the monolith is 348 meters. The mountain is owned by local tribes, who by all means try to ban climbing Uluru, which is sacred for them, besides, 35 people have already died during a difficult climb. So far, the official ban has not been obtained, but the ban on photography in the places of initiation is already in force.
And the sign always comes true: everyone who picks up even the slightest bit of rock for memory will be cursed. Numerous tourists who have ignored this warning, send back the pieces of rock taken because of the misfortunes that fell on them.