AIRBUS A318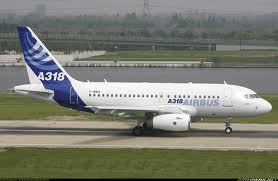 Narrow-body aircraft Airbus A318 is the smallest member of the A320 family, which includes models from A318 to A321. The twin-engine nizkoplan has a three-bearing retractable landing gear, turbofan engines located under the wing and standard tail assembly. There is the possibility of a steep approach.
The liner is designed for private flights or for flights with a small number of passengers. The aircraft has been in operation since 2003. He makes flights of medium and short range. There are two classes in the cabin: economy and business classes. Depending on the model, the number of passengers varies from 107 people in a two-class cabin to 132 in a single-class one.
In the development of the liner, the most advanced technologies were used: the newest wing design, ultra-light materials that provide fuel savings and increase control efficiency. The Airbus A318 uses a remote control system.
Story
The first test flight took place on January 15, 2002 in Toulouse. The A318 entered service in July 2003. Sold liner with small quantities. The plane appeared as a result of research on the development of a 95-120-seater airliner.
In the production process, halogen and fluorescent cab lighting lamps are replaced by LEDs. The new panel facilitated access to the necessary information for pilots. Instead of outdated hydraulic system installed electric. The use of laser welding reduced the cost of work and reduced the weight of the structure. The first customer, the company, Frontier Airlines, received the first A318 aircraft on July 22, 2003.
Dimensions
Length: 31.44 meters;
Wingspan: 34.10 meters;
Height: 12.51 meters.
Flight performance
Flight range: 5950 meters;
Maximum speed: 871 kilometers per hour;
Maximum cruising speed: 828 kilometers per hour.