Airline tickets to Cyprus
Cheap air tickets to Cyprus: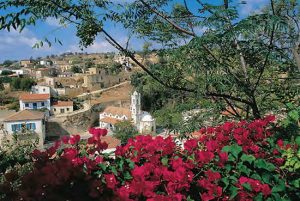 Cyprus is a republic, a country that occupies the third largest island in the Mediterranean. Cyprus is one of the most picturesque places in the Mediterranean, it is famous not only for its ancient history and numerous attractions, but also for its mild climate, comfortable conditions, clean ecology, exotic landscapes.
Airports of Cyprus
Cyprus has three international airports: Larnaca, Paphos, Ercan. Larnaca is used for regular as well as charter flights, is the main airport of Cyprus. Paphos — secondary, used for charter flights. Ercan is located northeast of Nicosia, at the moment — the main civilian airport of the northern part of Cyprus. Performs international flights as well as flights with neighboring countries.
Cyprus is a country with a sufficiently developed tourism, so flights are operated regularly, and the price at different times of the year does not change by more than 200 euros.
Best time to travel to Cyprus
Cyprus is in such a climatic zone that traveling to this island at any time of the year will bring you pleasure. The country has a lot of cultural values, a huge number of cleanest beaches on the sea, an incredible combination of diverse natural landscapes — and all this is available to the traveler all year round. Nicosia has been the capital of Cyprus for the last thousand years. The city, like Berlin once, is divided into two parts by the UN "green line". This happened in 1974, as a result of a political conflict, after which Turkey seized most of the northern territories of Cyprus. Many people died. However, this unresolved political issue does not prevent millions of people from enjoying a superb holiday in Cyprus.
General information
At 113 km from Turkey and 120 km from Syria, there is a Mediterranean island called Cyprus. It is divided into four parts: the southern Republic of Cyprus, the unrecognized Turkish Republic of Northern Cyprus, the zone where the UN peacekeeping forces are located, and the territory where the Sovereign British bases are located.
During its 10-thousand-year history, the island has seen and survived a lot with its small size. Ancient history from the first hives of the most ancient person to the famous Greek and Roman remnants of architectural structures here everywhere. Today it is a great place to relax, where there are resort towns and comfortable beaches. It is because of its advantageous geographical location that the island was constantly attacked by various peoples: Greeks, Phoenicians, Assyrians, Egyptians, Persians, Romans. The culture of many peoples who inhabited the island of Cyprus in different years closely intertwined with local history and culture.
Cyprus is a mountainous island. The local landscape features are maximally used by climbers and cyclists. They jump with a parachute and bungee. They just walk a lot and ride quad bikes. What is surprising is that here they even ski, despite the fact that the temperature here is rarely below 20 degrees Celsius. Scuba diving, sailing, fishing — these are the few things you can do on the Mediterranean.
Local kitchen
The nature of the island is unique and inimitable. There are many sunny days a year, and the sea is crystal clear and calm. The infrastructure of resort towns is represented by expensive hotels and hotels. Here, a vibrant nightlife, and a varied menu of restaurants and cafes will give a complete picture of Mediterranean cuisine. Here you can find dishes of French, Italian and even Thai cuisine. Only the freshest products grown under the caressing sunshine of Cyprus will be on your plate. Popular local drinks such as wine and original liqueur, as well as local whiskey (zivaniya). In the evening, be sure to go to a real Greek tavern, listen to how to play bouzouki. Young people will enjoy modern nightclubs and discos. Ayia Napa is the second Ibiza in terms of the popularity of the latest music trends. Here all year round the most fashionable DJs of Europe come.
Holiday features
Far from the resort towns, in the mountains you can find secluded villages, monasteries, churches and even castles that once belonged to the Crusaders. Visit the local museums, where you can explore in detail the life of the people who once lived here. Cypriots very warmly and cordially welcome guests, with pleasure and communicate with them a lot, become intimate friends with them. Here everyone can find rest, which is close to his inner world.
Those who seek peace and solitude can find hidden paths trampled by crowds of people. Newlyweds love Cyprus for the opportunity to spend here a paradise honeymoon and really enjoy each other. Especially since God himself ordered to love and fall in love here. After all, it is here, according to legend, the goddess of love, Aphrodite, emerged from the sea foam.