Airline tickets to Spain
Departure to Madrid from Moscow is carried out from the following airports: Sheremetyevo, Domodedovo.
Possible transfer airports on the route Madrid Moscow: Ruzine, Linate, Fiumicino.
Arriving in Madrid is provided to the following airports: Barajas.
Cheap air tickets to Spain: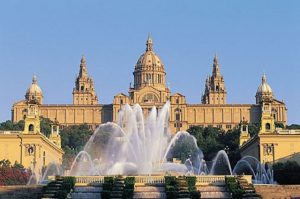 Geographical features
Spain — a developed business and cultural center of Europe, combines the mystery and hospitality. Developed cities, high-rise office centers coexist with ancient monuments of European architecture, ancient streets and stone roads.
Located on a peninsula in the southwestern part of Europe, Spain is washed by the Mediterranean Sea (there are also the Spanish Balearic and Pitiuz Islands) and the Atlantic Ocean (Spain also owns the Canary Islands). The summer is hot, but well tolerated due to the dry climate and the mountainous nature of the area (Spain is the most powerful country in the European Union). Winter is relatively mild with an average temperature of 8 to 13 degrees.
Due to such a good geographical and climatic location, resorts along the entire coast of the country and on its islands are very popular in Europe. Costa del Maresme, Costa Brava, Costa Dorada, Costa Blanca and other coastal cities will delight you with their chic service and cordiality of a cheerful and proud people — the Spaniards.
Recreation Features and Attractions
The Spanish islands need no special introduction. Everyone has heard of the hot Mallorca, the cozy Minorca and, of course, the party Ibiza. And who would not like to visit the famous Canary Islands! Excellent beaches with clean golden sand and warm crystal water will appeal to lovers of marine recreation.
Fans of excursions Spain also will not let you get bored. This country is a real museum of Western Europe. Palaces, temples, squares, museums and galleries of ancient cities — Madrid, Seville, Barcelona and Valencia — will not leave anyone indifferent and fill your home photo albums with beautiful pictures to the eyeballs.
Do not forget about other things with which Spain is associated — a real bullfight, traditional running of bulls, delicious Spanish cuisine and, of course, true Spanish wine. All this is definitely worth seeing and trying, otherwise a visit to this multifaceted state will not be complete.
Spain Airports
A number of airports in this country can be enumerated indefinitely, but it is much more convenient to search for them depending on the city of arrival, and then search for information about the airports on the website. Detailed information on how to get to airports by various means of transport is posted on the official websites of airports.
The best time to travel to Spain
Spain can be visited all year round only with the condition that at different times you will go to a different place. The beaches of Spain are open for visiting all year round. Canary Islands are usually waiting for tourists from May to September. Northern beaches — June, August. Canary Islands — a time of rest and swimming in April — September. Winter is the time of ski resorts. Culture and attractions of Spain — time from September to November.