Traveling with children by plane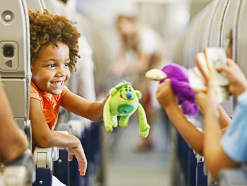 Traveling with children
Children up to two years are eligible for air carrier services at a 90% discount without free baggage allowance and a separate seat. If parents want to arrange a separate place for the child, then the cost of the ticket will be issued as for a child under twelve years of age.
One adult passenger has the right to carry one child up to two years old. The second and subsequent children will be issued as children up to twelve years.
For children under twelve, it is possible to issue a ticket with a 50% discount.
A child who is not yet two years old is required to accompany adults. If your child has not yet turned ten months old and his weight does not exceed ten kilograms, then a cradle can provide him on board. This should be reported to the air carrier at the time of ordering the air ticket, no later than 24 hours before departure.
Children under the age of twelve have the right to use the services of air carriers without their parents. Caring for them is now completely on the shoulders of the staff. To do this, parents at the airport must fill out a special form for transporting a child up to twelve years.
The ticket of the unaccompanied child is paid in full at the full fare. Such a passenger should be marked on the ticket that the child is unaccompanied and he needs care. For such a child will follow, and serve the stewardess and give the child to meet.
According to the law "On departure from the Russian Federation", children under eighteen years of age must have a notarized exit permit from both parents.