What is the lounge area at the airport
When air travel is often necessary to wait for a flight at the airport. In such cases, access to the lounge comes to the rescue. The purpose of the lounge is rest and pleasant pastime. Lounge — a rest area at the airport, a separate superior room where the passenger can spend time waiting for boarding on their flight and not languishing in the common waiting room.
The advantages of lounges include: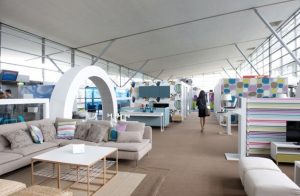 comfortable chairs and sofas, free drinks and food — snacks with no limit on your choice. So that the passengers do not get bored, there are televisions, newspapers and magazines at their disposal. Free wi-fi, and in some halls there are special rooms with computers, and also a number of useful services are available: internet, telephone, fax and org. equipment (printer, fax, copier). Virtually all rooms have a shower.
Passengers of the first and business classes, as well as passengers owning silver or gold cards of the airline's bonus program are allowed in the lounge zone. Take advantage of the services of some lounges can any passenger, just paying for it. The cost of visiting the lounge about 30 — 40 euros for 3 hours. With a long stay at the airport, the more hours taken, the cheaper it costs.
Clients lounge areas do not have to stand in line at the ramp. They will be brought on a special bus or they will go aboard on a separate ladder, after filling the cabin with economy class passengers.